Stream Series
a collection of watercolour paintings where I abstracted the layers that we experience looking into a shallow stream, showing the top, middle and bottom in a flattened perspective. I have a stream beside my house that is surrounded by trees and bushes, a place to stay cool on a hot day. Water brings light and shadow, color and distortion. The movement and patterns created by the plants and rocks above and below the surface add a rhythmic pulse. The bands of colors change as they interact and cross one another.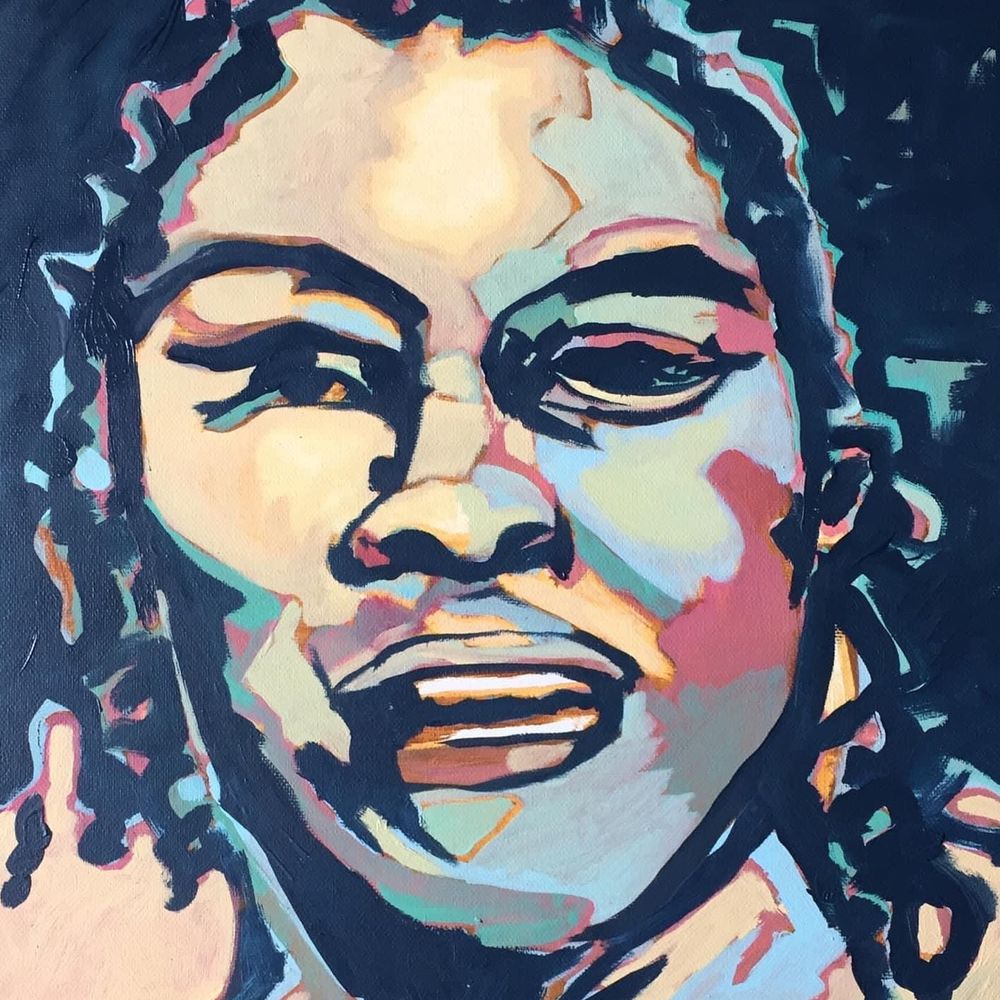 Artwork 2022
Title: Faces 2022
Medium: Oil on Canvas
Concept: Exploring film and documentation, these paintings are being  shared on social media while I paint.  These paintings are superimposed images of myself and famous black women. I used artists, activists, astronauts, actors, singers, educators. This project is on going and more women will be added.
Artwork 2021
Title: Mountain Series, 2020-2021
Medium: Oil on Canvas
Concept: A series of paintings exploring movement and color.  Inspired by hiking in the Pyrenees mountains around my village I was interested in capturing the vistas looking down into the valleys. The hills are used as pastures, vineyards and small creeks cut through them to create dynamic changes in the typography of the landscape. Through line and color I explored these quick changes in elevation and their relationship with the viewer.
2021
Artwork 2021
Title:  Spring, Looking Up Trees, 2021
Medium : Photography and Oil on Canvas
Concept : A series of photos that I took looking up trees in the spring of 2021 that inspired a group of paintings. Focusing on the play between the light coming through the new growth of the trees and the shadows cast by the sun still low. The effect created an abstracted and playful juxtaposition between light and dark. The other surprise effect was the impression of a halo appearing at the tops of these tress, which I had not noticed in the photograph.
2020
Title: Selfie Portrait Project, 2020
Medium : Oil On Canvas
Concept : Developed during the pandemic,  participants were asked to submit a selfie. Beginning as a simple drawing portrait study, Selfie Portrait Project grew into a collection of 20 pieces of women (classmates, colleagues, past-students and family) from my past and present, reconnecting to past memories.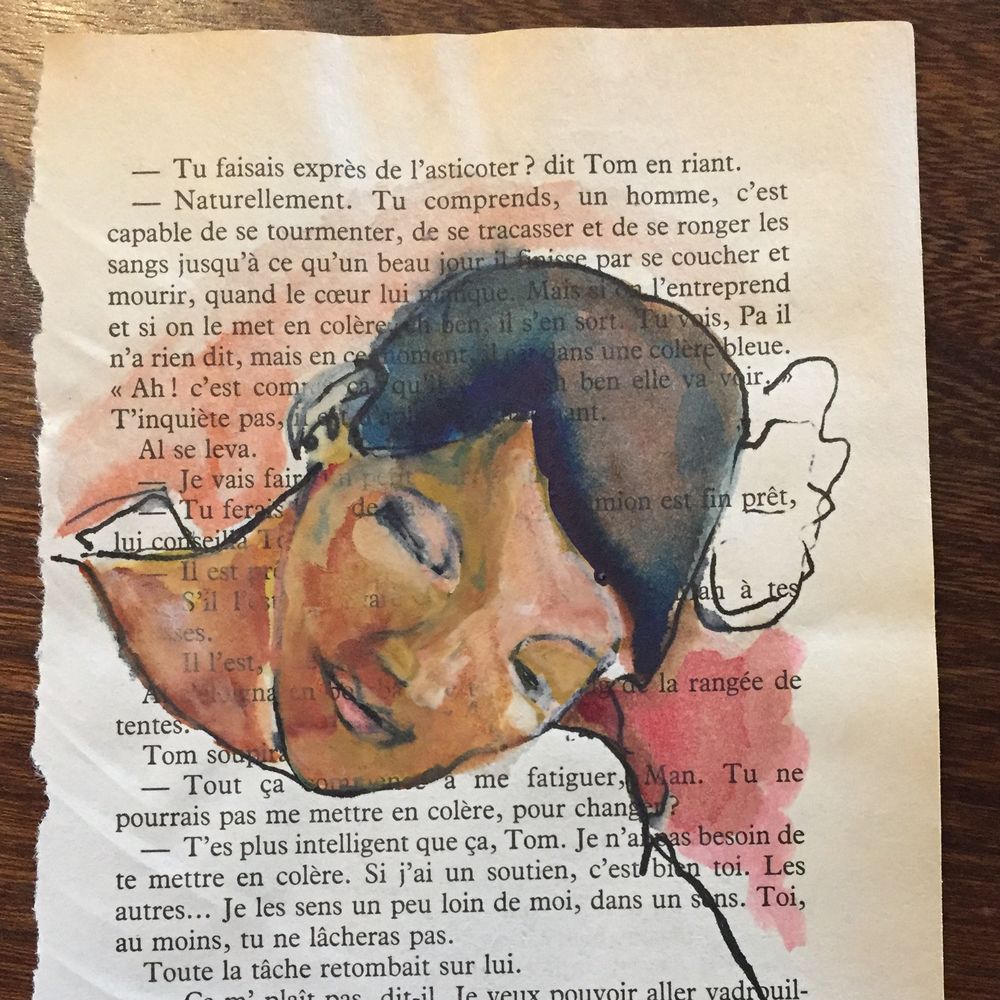 2020
Title: Raisin in LOCKDOWN
Medium : mixed media, A water damaged French copy of  A Raisin in the Sun by John Steinbeck, Pen and Ink, Oil Pastel
Concept : A lack of materials during the pandemic lockdown invited the use of other materials food around the house. Using an old water damaged book as a sketch journal, I decided to make a drawing day using models from magazines and still life portraits of objects around the house. Some inspired some paintings in Acrylic and Oil.
2019
Title: Vineyard Project
Medium: Oil on Canvas
Concept : The theme "Vineyard" was presented for a group art exhibition. MI chose to focus on the creation on the wine and being in the south of France, having vineyards in my backyard, I witnessed this process first hand. I had the chance to pick grapes one season and a spectacular discovery is the fun lunch you have after a full morning of picking rows and rows of grapes staining your fingers a beautiful red-purple. Everyone sits down and makes a hearty sandwich on a baguette and a glass of wine from the previous years harvest.
2015-2018
Title: Village Scenes Series
Medium : Linoprint, Pen, Ink, Watercolor, and Oil Paint
Concept : A collection of small prints of local villages and towns. I enjoy using a mixed and unconventional color pallet, placing highly contrasting color, as well as playing with darks and light. I enjoy playing with the shapes and brush strokes that take on an impressionist quality where the viewer steps back and sees the image clearly. I enjoy mixing abstract and realism.