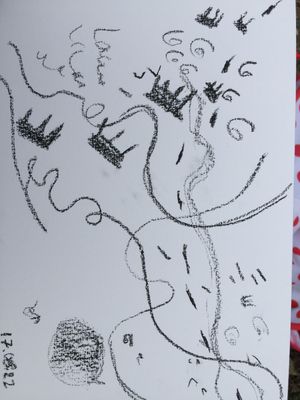 Go to their blog on https://shoeboxarts.com under features to see Round 1-14 online exhibitions of Call and Response to get an idea of how artists worked together.
I will be participating in a 3 week collaboration with an artist in the US! We will finish the 11 September 2022 
How it works: 
Artist #1 will create an original piece of art within 24 hours and send a digital version of it to Artist #2.  It can be poetry, it can be photography or video. It can be painting or drawing, collage or sculpture. It is about sitting down and being creative and interacting with someone. 
Artist #2 will then have 24 hours to create a response to it in any medium and with any tools available to them. They will in turn send a digital version of it back to Artist #1 who will create a new work in response. In the end there will be around 14 pieces from the collaboration.
This will be included online to Shoebox's online gallery and I will be happy to make available prints for sale if you like what I do! I will add each one that I do on this blog. We start today 22 September, I am artist #2 so I am waiting to receive my first piece:)